Romance Tale Review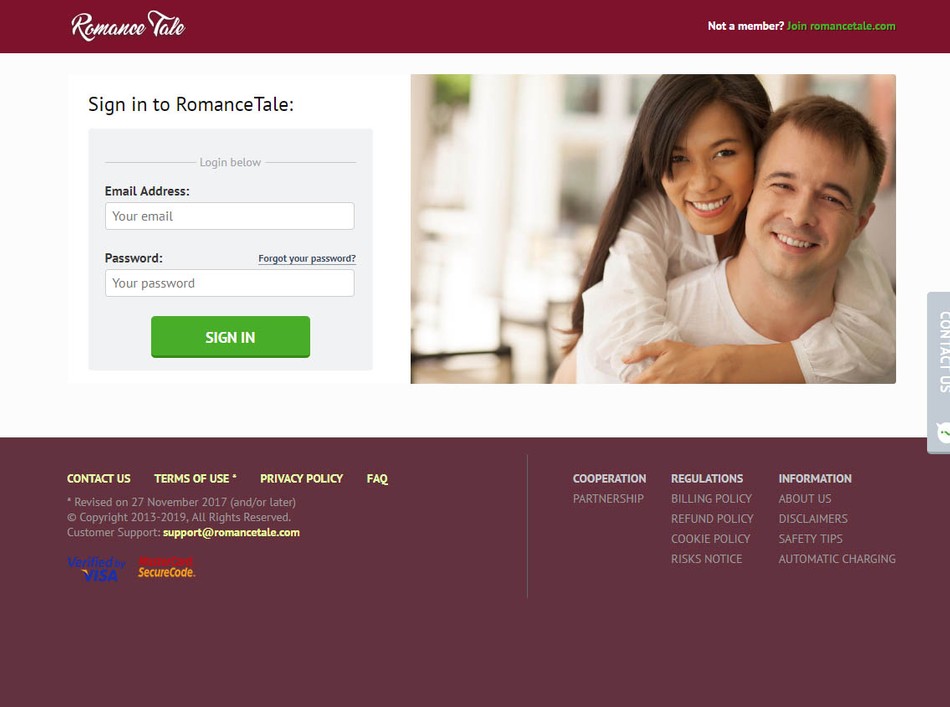 Romance Tale is a top-rated dating website that is used by more than ten thousand single members. It's a prominent way to transform your online dating game. If you're lucky, then there are high chances that you'll get your true love here and eventually get married. RomanceTale is a famous destination that tries to connect you with the best matches according to your personality. Romance Tale reviews have pointed out that the RomanceTale website is a contemporary dating landscape. Check out the complete detailed review of the website here and figure out the reason to get started on the site today.
Pros
Enhanced communication with amazing features
Client protection policy
Fantastic search filters available
Dating tips for users
Cons
Mobile application does not exist yet
All exciting services are paid
First impression
Romance Tale dating website has an extremely easy to follow layout. The website is made attractive by the use of real photos of its members. This helps you to know what to expect ahead. Since it is not easy to communicate in Asian languages, the website also has provision for translatory services. This is substantial in helping you to establish a rapport. As soon as you open the website's page, you see the option to login/join the website for free.
After the verification process, you can instantly start connecting. If you have any problems, the customer care team is available 24/7. It must be noted that the platform does not use any graphic images or loud colors. This is very soothing to the eyes. Overall, the first impression definitely receives a thumbs up.
Registration process
Registering on the site is extremely simple and not time-consuming. Registration on the platform is completely free and takes only 2-3 minutes in all. Just put in a few details, and then you are good to proceed. To be precise, they ask you for the details like:
Userame
Gender you wish to set a relationship with
Your full birth date
Email ID
A unique password
Following this, the users have to feed in certain information about themselves. These include anything that they like, such as music, sports, and hobbies. The users can also include their preferences here. Lastly, they can also attach photographs to the profile.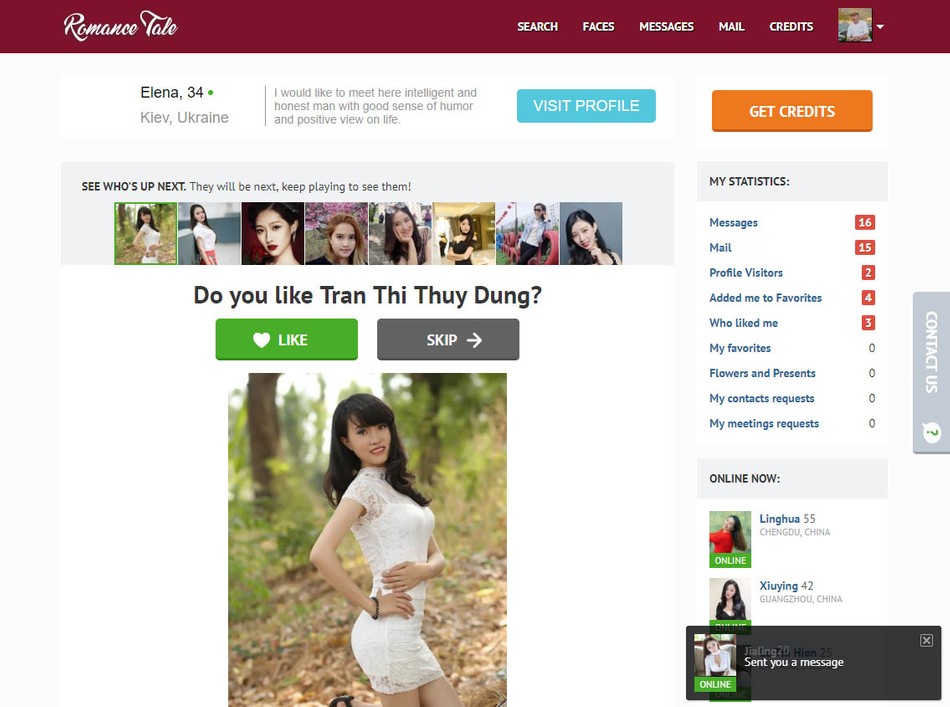 Search and filter
The RomanceTale is an amazing way to meet new people. But since the number of users is huge, finding the right partner can be difficult. This is why, once the system of the RomanceTale dating site has generated your matches, you can also filter through them. This signifies that you can determine the parameters to shortlist women or men you want to take it forward with. Some options for filtering are location, photos, videos, and background. With this, you can be guaranteed to meet the girl you want. If you wish to arrange a date, just connect with the site's team. They will schedule your offline meeting.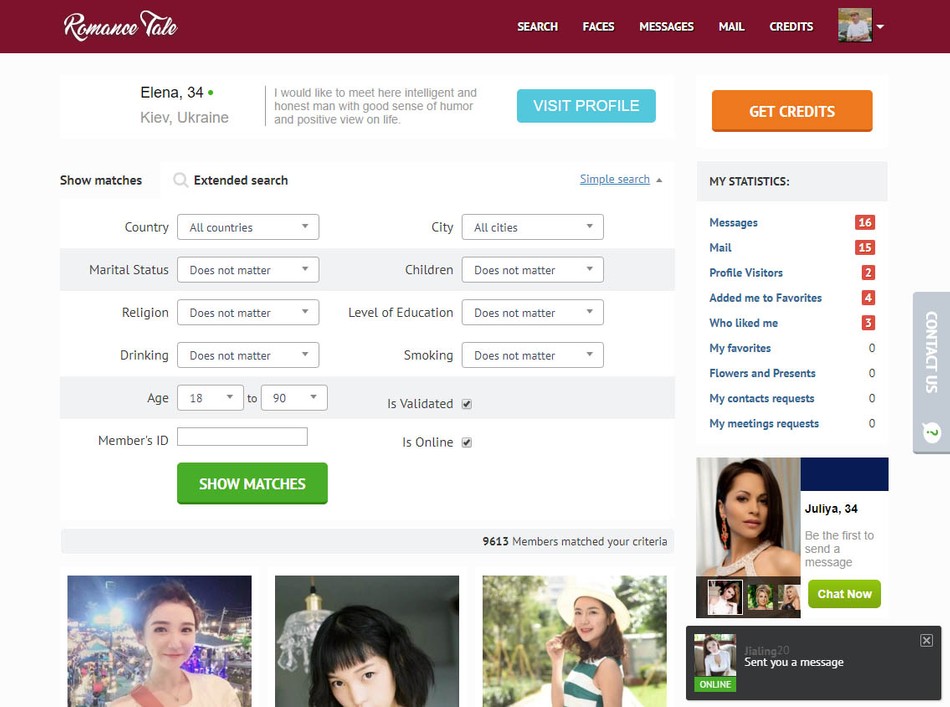 Communication
RomanceTale site facilitates effortless communication. Users can send instant messages, emails, and virtual gifts. If you wish to send the potential match actual gifts or flowers, get in touch with the site's support team. There is also the chance to exchange exclusive pictures and videos. You need to understand that all these services are considered to be advanced features on the site. You need to make additional payments for each. Other than these, the RomanceTale translation services are significant too.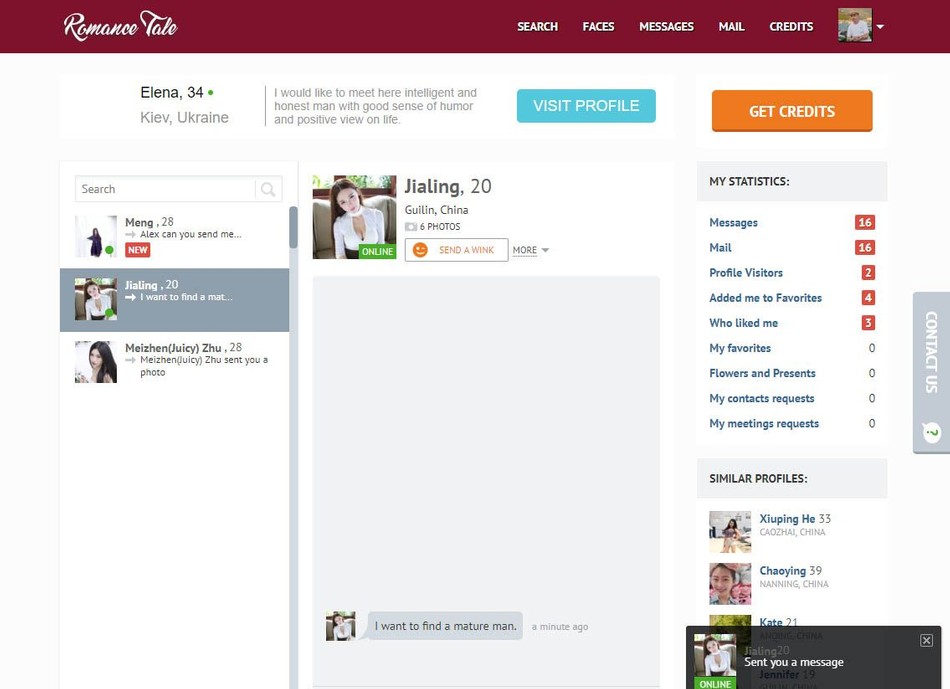 RomanceTale Mobile app
RomanceTale doesn't have a mobile application. But the Romance Tale has a customized version for your mobile phone screens. This makes the website fairly easy to be used on your computer, laptop, smartphone, or even a tablet.
What does the free version offer?
There is a price for almost anything a user wishes to do on the RomanceTale platform. But there is still enough that you can do on the free version of the dating site. Here's what the free version offers:
Register: Firstly, you can register for free. This does not require any payment.
Search: Next, you can filter the searches and look for those who you may be interested in. Some key areas of filtering are age and other aspects of physical appearance.
Look: Lastly, you can look and browse through. This signifies that you can explore through the options and names that are showing up on your screen. But that is it. You cannot talk to them or have access to their photos and videos.
Prices
RomanceTale website has two types of services:
Free services: Joining the Romance Tale, reading through the profiles, and checking out all the active women online who are interested in marriage.
Fee-based services: Instant messages, real gifts, video calling, and access to exclusive photographs and videos.
The payment options are Visa and MasterCard as well as American Express and Maestro. All transactions are shielded by the 128-bit SSL encryption systems. This makes the site safe to use. The present prices include:
Scam and safety
The online world is not free of fraudsters. But the RomanceTale website has taken substantial measures to ensure that you do not end up losing your money on the site. To begin with, each and every transaction that you make online from your card is protected. This aptly showcases that it is processed with high security, and your card details are always safe. Besides, the website has a full-length article on safety tips. It clearly advises its members not to transfer money to any of your matches as the demands may be under false pretexts.
RomanceTale's fraud protection write-up strictly suggests members to terminate communication with:
Anyone who demands money
A minor pretending to be an adult
A person who harasses/offers any sexual services
The RomanceTale website has a separate section of dating tips. This is useful for every member and can be accessed free of any extra charges. The website has a lot of advantages which make it an ideal site to start dating on. Moreover, the easy to use interface helps all kinds of users access the features of the site.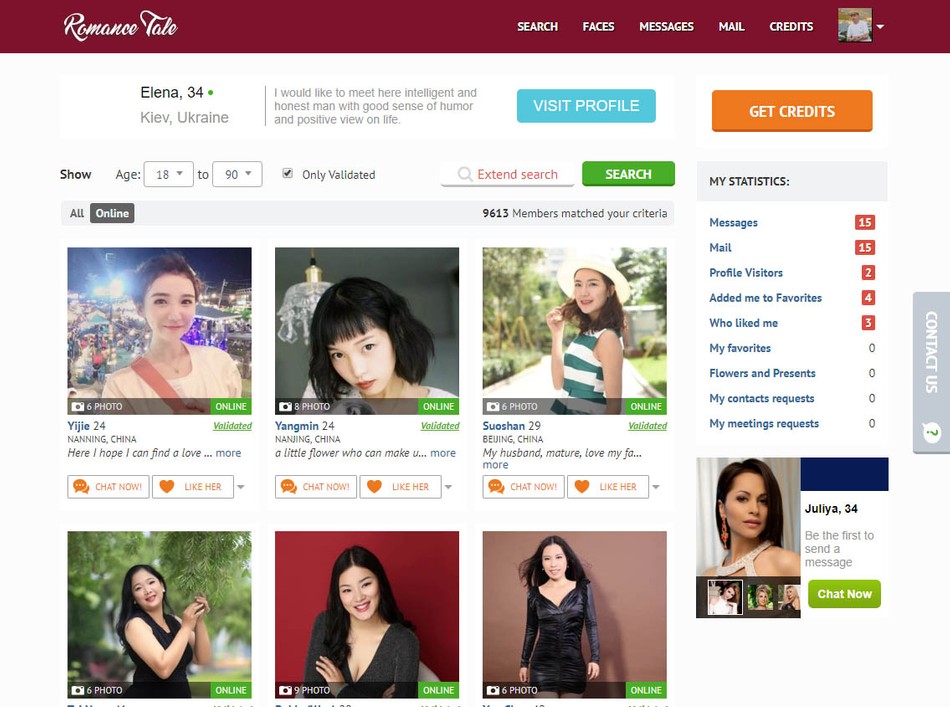 Customer support
The RomanceTale dating website has a very supportive team. It is just a message away and can be contacted round the clock. The team responds with proper and helpful solutions to the queries put up by any of the site users.
F.A.Q
Is the RomanceTale website free to use?
The RomanceTale site is not free to use. Though registration is free, there exists a fixed payment for advanced services, such as chatting, calling, and exchanging photos and videos. Website credits are used for everything you want to do, and these credits can be purchased online.
How can I register on RomanceTale?
Registration on RomanceTale is very easy. You just need to put in details such as your name, age, the gender you are looking for, and your email address. Then, you are registered and are free to add personal details about yourself, including your photos.
What is the credit-based system on RomanceTale?
The credit-based system refers to the local currency that is used on the RomanceTale website. These credits can be purchased on the site but don't have any monetary value in the real world and cannot be exchanged. The credits are used to make use of advanced features such as photo and video sharing.
Is romancetale.com safe?
The dating site has been made to be as safe as possible. There are several articles and guidelines on the site to tell you how to stay safe on RomanceTale. It is the user's responsibility to be alert and not fall for any traps.
Can I deactivate my RomanceTale account?
Deactivation of your RomanceTale account is hassle-free. You can go to the account settings option and then go to the status of the account. There is an option to cancel your account. If you have any problems, you can instantly get in touch with the support team.
Can I send free messages on RomanceTale?
No. There is no way to send messages or use any feature of the RomanceTale app for free. The least amount of credits that you can buy is 20 for $9.99.
Do I have to verify my RomanceTale account?
No, no verification is required for an account on this platform. As soon as you sign-up and put in the necessary information, the website is available for you to browse through. If you wish to make conversation with a potential match, you are required to make payment for the advanced features.
How to use RomanceTale anonymously?
No, you cannot hide your profile from others while still being able to see theirs. But you need not get disheartened. This is good because it ensures that more people will be able to view your profile.
Summary
Overall, the Romance Tale dating website is a website that is recommended for use. It has many options to choose from. In fact, it is cheaper than a lot of other similar websites. The user experience of the website is amazing. Apart from having a large database, the site has got an amazing user interface. This makes it easy for the users to navigate through and access all the features. If you haven't already done it, make an account for free on the site today!