BravoDate Dating Site Review—An Honest And Detailed Overview
Check out our article about BravoDate international online dating platform and join the world of phenomenal and unforgettable online dating experiences today! This article is going to tell you everything you need to start using this website and seek beautiful and real girls for serious or casual relationships. Whether it is your first time on a dating website or you are an experienced user, BravoDate can offer you exactly what you seek.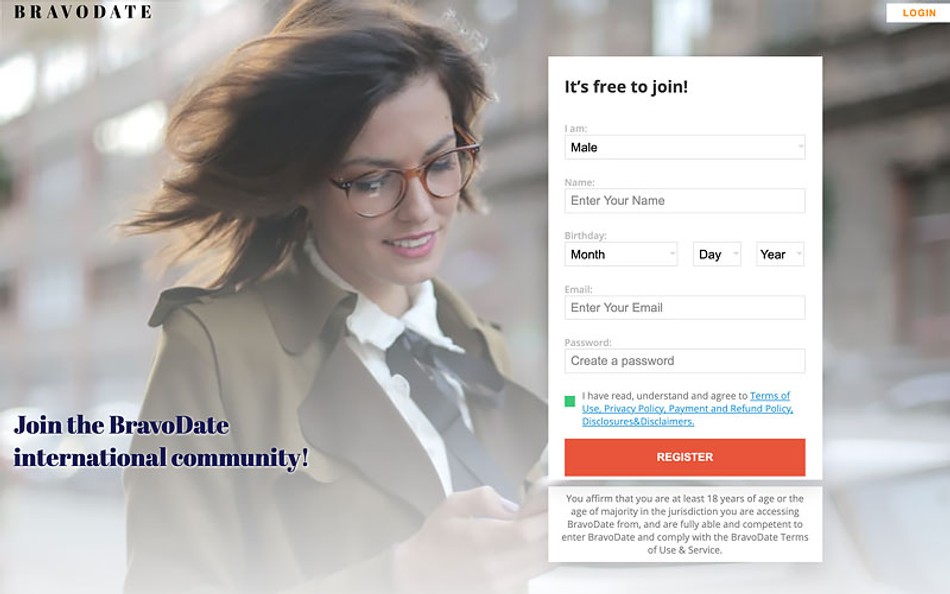 First impression
Once you open the Bravo Date website, you will see that it is a site with a decent design and interface. And these are good news — a proper online dating platform should have an appealing but not confusing design. You can learn a few things about this website such as its values, terms of use, and other legal and general information that can tell you more about what this website offers. So, the first impression from this platform is positive — it does make you want to continue and sign up to see what else is hidden behind this place!
Registration
Once you are satisfied with how everything looks, the next thing you need to do is create an account. Some platforms require you to receive a verification email to continue registration. And while it can be justified as being a security measure, very often, such verification can take up to several days! Here, you don't need to wait for anything — registration is instantaneous. All you have to do is fill out a few fields, complete a questionnaire that you can skip, and that's it!
We would recommend you fill out your profile as soon as possible since once you create your account, girls can see it and check it out. And the more detailed your profile page is, the more girls can become interested in you as a date.
Search and filter
If you don't want to browse through all girls at once, you can narrow down the number of potential dates by using searching filters. All you have to do is to specify qualities that you want to find in your potential date.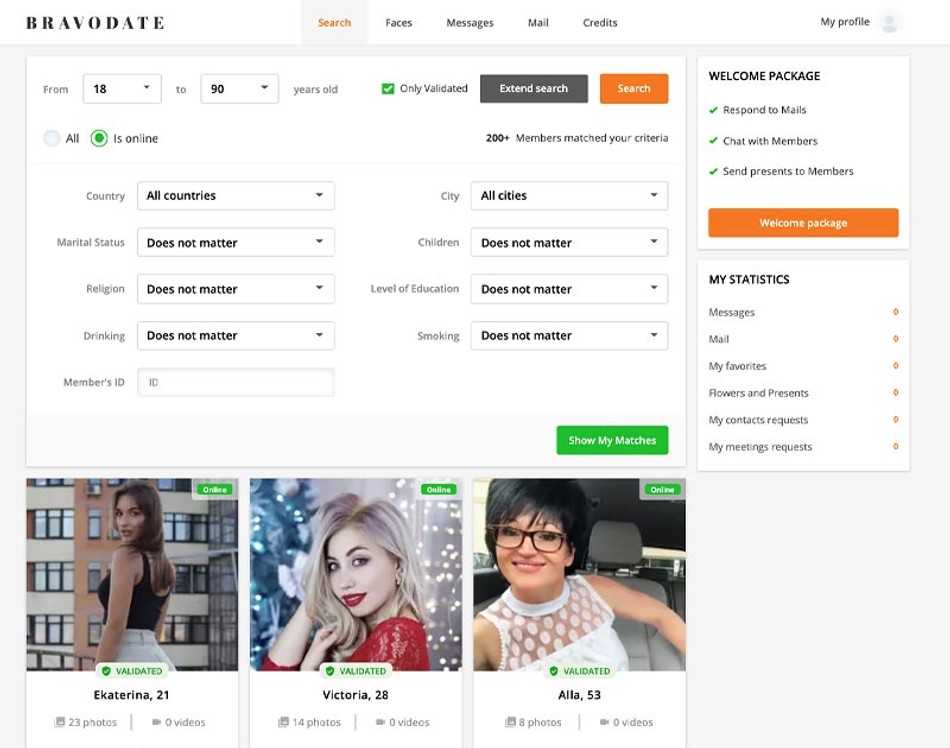 Communication
The main point of any platform for international dating is interaction. You have to communicate with girls to gain online dating experience. BravoDate doesn't offer you anything unique here. You can use live chat and emails to communicate with girls.
Live chat
You can chat with any girl you desire—all you have to do is open her profile page, type a message, and click send. However, communication on Bravo Date is fee-based—you will need to have credits to send messages. 1 minute of live chatting costs 2 credits. We will discuss the cost of credits and all about the pricing policy of the site later in the article.
Emails
Nothing special—just lengthy messages that you can send to your girls whenever you feel it! These are also fee-based and cost 10 credits for the first mail and 30 credits for each consequent mail to one particular date.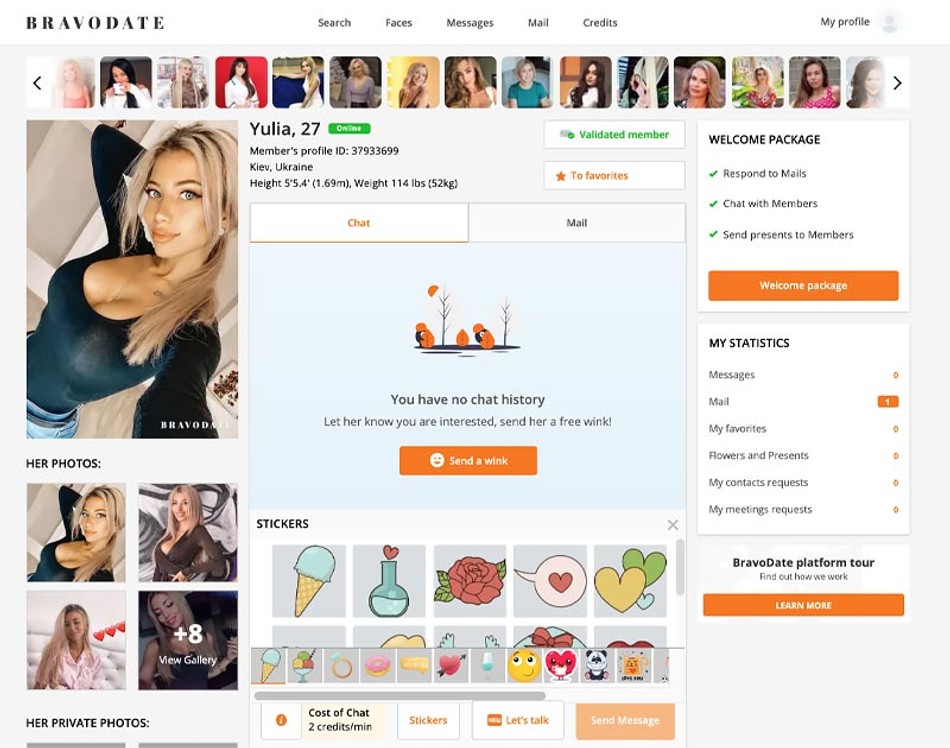 Membership structure
BravoDate is a relatively popular platform among foreign girlfriends. You can expect up to 7,000 active ladies at any given point. Not all girls are extremely active — you may need to wait for some time before they respond. However, you can expect to have a decent time with girls from other countries. Anyway, there is a proper number of active members on Bravo Date — you won't be bored!
Pricing policy
To have a high quality of communication, you will have to pay. This is true for most dating platforms — without paying, you won't be able to actually communicate with foreign girlfriends. However, you can expect rather low prices on tools and features on Bravo Date. For instance, a month of relatively frequent communication would cost you around $50-100. Of course, you can pay more since BravoDate uses a credit-based system, which offers flexibility, but also doesn't provide any limits on how much money you can spend. Here are the current prices for the credit packages: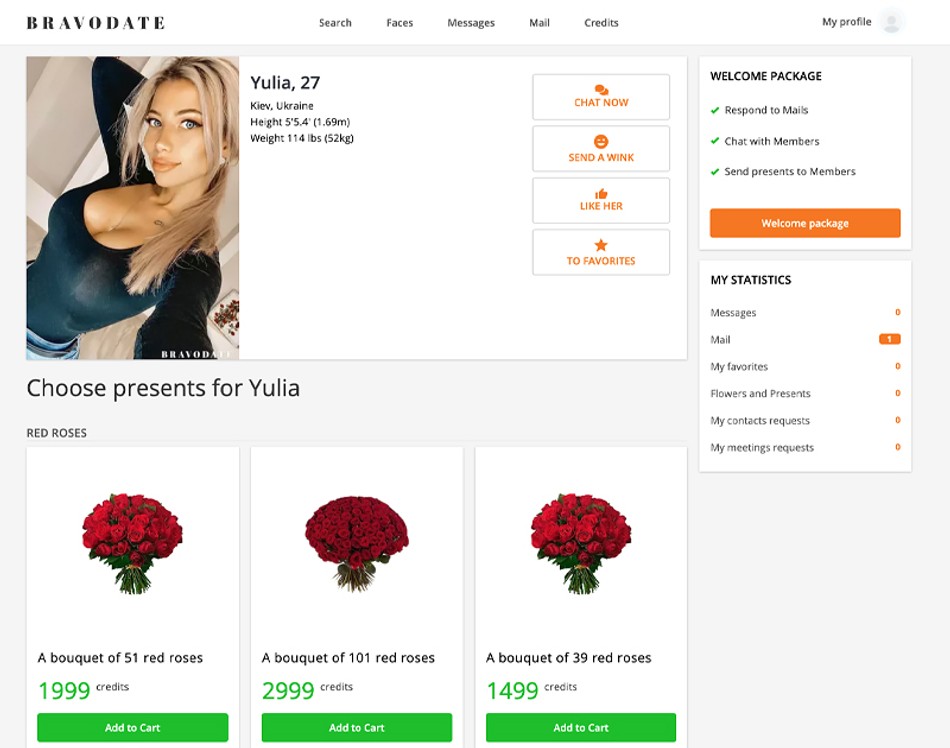 Pros and cons
Pros
Flexible cost of advanced features
Ability to send gifts and flowers to girls you like
User-friendly design and interface
Complimentary 20 credits upon registration
Quick and simple registration
Cons
No mobile application
All communication features require paying
Conclusion
No article could replace the real experience of using a website. But this BravoDate review is aimed to make you understand that there are platforms that can help you find exactly what you seek. Once you sign up on the site, you will see whether it is a website for you. But you can be sure that girls on BravoDate won't get you to be bored!
F.A.Q
How much does Bravodate cost?
Bravodate is not a 100% free dating website — you can view the profiles and use such features as advanced search for free. Yet, you need to purchase credits to send and read messages from women. There are 5 options available on Bravo Date: you can buy 20 credits for $10, 50 credits for $20, 125 credits for $45, 250 credits for $70, and 750 credits for $150. If you're a new user, you'll be able to purchase 20 credits for $3 instead of $10!
How to use Bravodate?
First, you need to enter your personal information, answer some questions, and upload a photo to create an account. After that, you'll get 20 or 30 free credits — you'll be able to view profiles, send a few messages, and spend up to 15 minutes in a live chat. To continue communication with ladies, you'll need to buy credits.
Is Bravodate a safe dating website?
It depends on what you mean by a "safe dating website". The number of fake profiles is very low here and the customer support team blocks suspicious accounts quite fast. So, we can say Bravo Date is quite safe. But you still shouldn't rely on the site's anti-scam system entirely — it's necessary to know and follow safe online dating rules.
How to get free credits on Bravodate?
Just create an account, that's all. All the new users get 20 free credits that can be exchanged on such premium features as messaging and live chat. You can also verify your email right after creating an account — in this case, you'll get 30 free credits instead of 20.