Jolly Romance Dating Site Review—A Place To Find True Love Online
Here, you can learn about a wonderful and effective website that can help you meet thousands of beautiful and loyal girls for romantic relationships. Foreign women from all over the world are eager to date and communicate with Americans, so don't miss out on such a wonderful opportunity! This article contains all important facts about this website, and you can easily start dating women after reading our Jolly Romance reviews!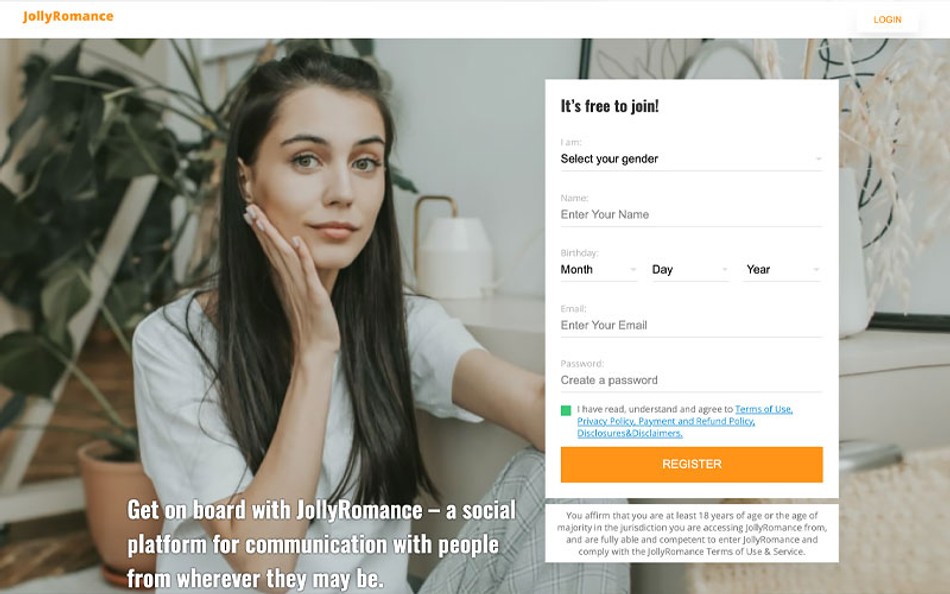 First impression
This website looks professional. It doesn't have a confusing design, it doesn't make you feel that girls who use it are forced to do so, and it doesn't overwhelm you with information. It is a simple, user-friendly place where you can have a great chat with foreign girls. That's it! You can find the registration form on the main page, which will help you start searching for the right date right away. At the bottom of the page, you can find useful information about the site as well.
Registration
To start dating girls on JollyRomance, you need to have an account. This is standard for almost all dating websites. To create an account, you just need to provide your email, name, age, and gender. The registration process doesn't need verification—you just sign up and start looking for girls that match your needs and preferences. You can and should also fill out your profile page—a place that most girls would visit first. There, you can upload a photo, mention a few of your hobbies, and tell anything you wish about yourself.
Search and filter
You can also narrow down the search with the help of matchmaking and searching filters. All you have to do is choose features that you want your date to have. For instance, you can look only among tall blondes. There is a matchmaking feature called 'Faces' that allows you to go through dozens of profiles at once, which can help you build a database of girls you wish to date very quickly.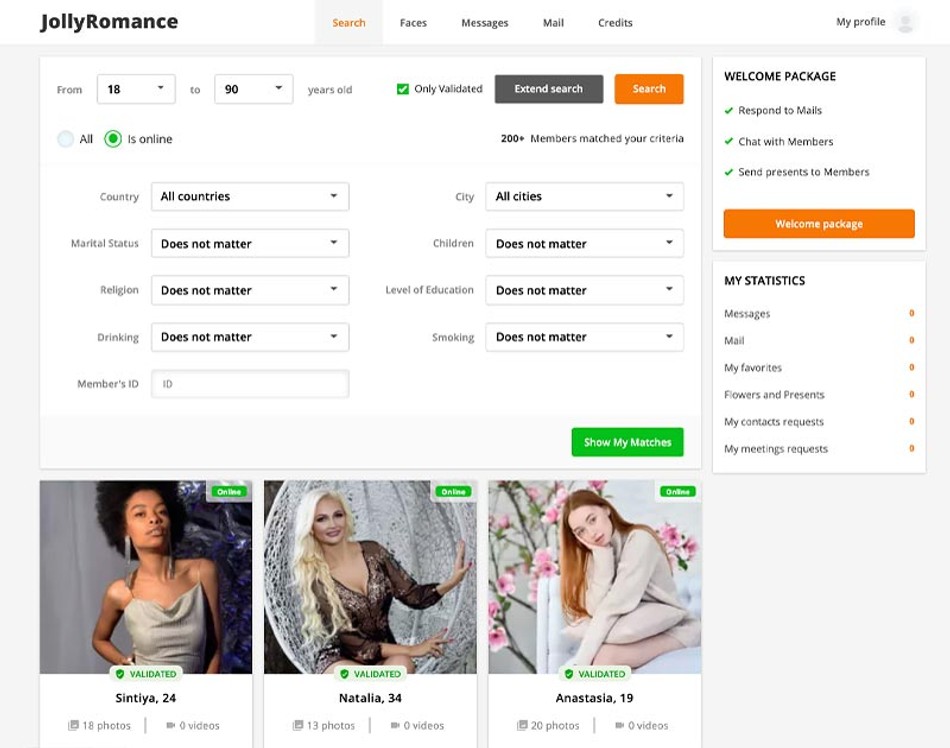 Communication
Currently, you can enjoy two forms of communication with girls on JollyRomance—instant messaging and emails. There is no video or audio communication, which is unfortunate. However, you can have a great time with ladies on this site by using text-based communication. Also, girls can send you photos and videos, attaching them to messages. Both instant messaging and emails are extremely simple and intuitive. For example, if you wish to send a message to a girl online, you just need to click on her profile page, enter the message, and click Send! The same goes for emails, although you will be redirected to a different page where you can type your message and then send it.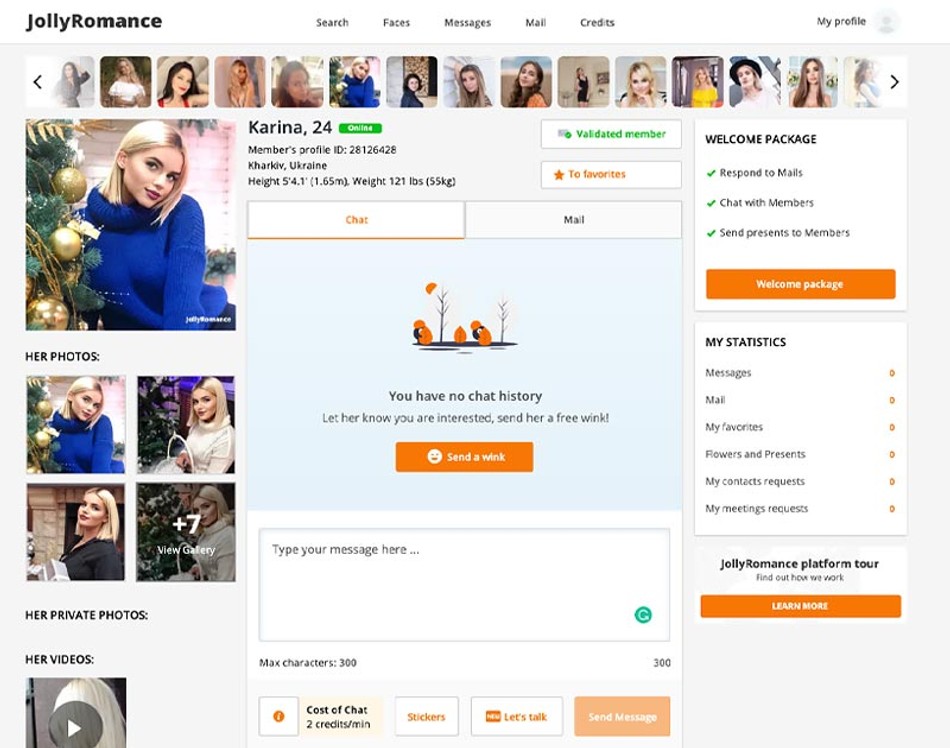 Membership structure
Many ladies use this platform—we estimate that over 8,000 women for international communication are active on a daily basis on Jolly Romance. And there are up to 20,000 registered female users here, so you won't be bored here.
Pricing policy
Like most websites with online communication, JollyRomance is a platform where you need to pay for your experience. That's right, if you have serious intentions to find a real girlfriend online, you will have to pay for your time. But don't worry, it is not that expensive. One of the benefits of online communication is that it is rather affordable. Now, as mentioned in our JollyRomance reviews, this website has credits. Credits are tokens that you need to spend to activate certain features and tools. Each letter, each video, or each photo that you view, send or receive costs a certain amount of these tokens.
You can decide how much money you wish to spend every single day, week, or month. It gives you the flexibility that membership-based websites cannot! Now, these credits are sold in packages, so you can decide how many tokens you want to get. Right now, the prices are:
Pros and cons
Pros
Great selection of women for online relationships from all over the world
Phenomenal customer service that can help you with any issue you may have
Fair and affordable prices for advanced features that you can control at any given time
User-friendly interface that can make your online dating experience fun and enjoyable
Simple but effective communication tools that will help you find what you seek
Cons
Lack of mobile application available on Android or iOS devices
No video or audio communication with girls who use the site—only text-based
Credit system can be rather annoying since you always need to be aware of how many credits you have left
Conclusion
Join the world of jolly and romantic online communication with JollyRomance—this website can offer you everything you may need! Thousands of active and beautiful girls are using this platform every single day. Don't waste your time—join Jolly Romance today and meet beautiful, sexy, and fun girls for serious or casual relationships. You won't be disappointed!
F.A.Q
Is Jollyromance a legit dating website?
Yes. Jolly Romance has a lot of positive reviews from real users of this site. Thousands of American, Canadian, and Western European men found partners on this platform and some of them made their stories public. Another reason why we call JollyRomance a legit dating website is the number of verified profiles here — almost all the female accounts have a Verified badge.
How much does Jollyromance cost?
20 credits cost $10, 50 credits cost $20, 125 credits cost $45, 250 credits cost $70, and 750 credits cost $150 (obviously, the larger package you buy, the less you pay for 1 credit). By the way, you can buy 20 credits for $3 (not $10) if you're a new user and it's your very first purchase.
How to use Jollyromance?
First, create a profile and upload a photo. Then, browse some profiles and view some photos to understand that the quality of profiles is extremely high here. After that, buy some credits and start chatting with all those beautiful Asian women!
How to get free credits on Jollyromance?
Just create a profile and it's done — you'll get 20 credits for free after that. You can also get 30 credits if you verify your email address during the registration!